DINKIE ROBOTS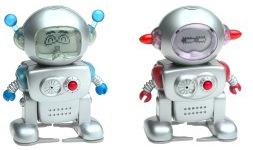 The entire set contains of six 'family' members. Mom, dad, girl, boy, baby and dog.
Each Dinkie Robot has its own voice, personelity, eye expressions, emotional states, and animation. Dinkie Robots play games, tell time, wake up in the morning, get sleepy and hungry, and communicate with other Dinkie Robots in thier own Dinkish language. For more info and pictures, click bellow to go to Dinkie Robots website.
D I N K I E R O B O T S

This die cast robot is from the Japanese TV show "San Ku Kai" (Message from Space) which aired in the 80s. This robot is called "Sidero" in French, when this show aired in France.
This robot is made of high quality die-cast matel and plastic construction, top of the head lifts to reveal fan cooled nerve center, poseable arms, interchangeable chrome space tools, bend to the waist and walking motion.

AVON
"I AM CLEAN II" Robot

8 FL. OZ. of Liquid Cleanser by AVON sold in the 80s

Four Classic Robot Design

MYSTABOT FRICTIONBOT MUSICBOT DINGBOT
First three of these robot were made by Playtime in the 80s. Dingbot is made by the famous robot toy company 'Tomy' in the 70s. Made in different countries, different colors and different function, but same famous 'box' design.

C R A Z Y B O T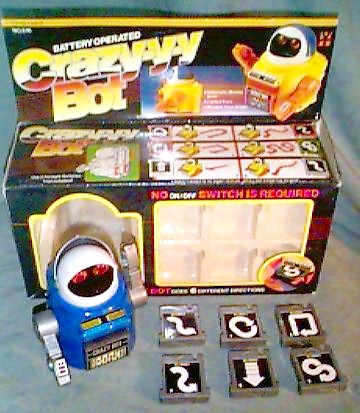 This B/O robot comes with its own sets of 'program cartridges'. It follows its path according to its command cartridge inserted in the slot in its chest. Very simple but smartly design toy. Walks with blinking eyes. An early 80s toy robot.